Are you looking for the perfect countertop for your home? If you are looking for counters that look great and perform well, look no further than City One Design Gallery, LLC!
At City One Design Gallery, our staff is committed to helping you find the cabinet or countertop that looks best and meets your needs. See below for expert tips and pointers.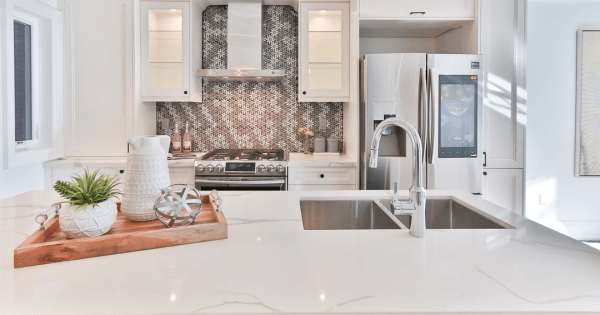 Selecting Kitchen Countertops
Do not take your decision to replace kitchen counters lightly. Purchase top quality counters to reap the benefits for years to come. For the best kitchen counter purchasing experience, consider the following:
Function. First and foremost, the ideal countertop replacement will prioritize functionality. Countertop installers recommend compiling a list of your "must-haves" and "wants." Weigh the importance of features like stain-resistance, durability, and maintenance. For example, do you have kids, or are you clumsy and prone to spill beverages? Do you cook a lot? Do you need a lot of counter space for washing, dicing, and preparing foods? The best countertop will make your life easier.
What does your budget look like? Factor in all costs to replace kitchen counters. Price materials, backsplashes, sinks, delivery, and installation. If you have any questions about the costs associated with replacing kitchen counters, do not hesitate to ask one of the professionals at City One!
Your personal style. Don't forget about the fun part! When you replace kitchen counters, keep your personal style in mind. Do you prefer a minimalist or ornate look? Do you want countertops to be cool to the touch? What colors do you want in your kitchen? Remember that you do not have to sacrifice style for function. There are several materials that look chic and last. Ask our staff for recommendations.
Replacing Bathroom Cabinets
Much like replacing kitchen cabinets, there are several things to keep in mind when it is time to replace bathroom countertops.
For the best results, consider:
The layout of your bathroom. What does the available space look like? Does your bathroom look cramped? With the right cabinets, you can make your bathroom look more spacious.
Your needs. Once again, don't compromise on your needs. Determine the number of sinks and how much storage you will need. Share these requirements with us when you walk into the store or call to get an estimate!
Aesthetics. When it comes to the look of bathroom cabinets, you have plenty of options. Choose painted or stained cabinets, rustic cabinets, floating cabinets, freestanding cabinets, or counters with trendy vessel sinks.
Are you looking to renovate your home and particularly your bathroom or kitchen cabinets? Step inside City One Design Gallery, LLC for cabinets and countertops with superior style, functionality, and craftsmanship.