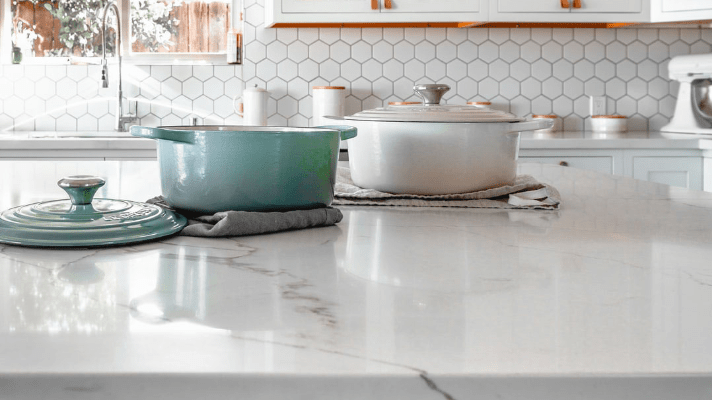 When you're looking at replacement kitchen countertops, it can be tough to make a decision about which material is going to work best in your kitchen. If you're working with a busy kitchen at home, here are five countertop materials that could be a good fit for you.
Quartz
Replacing countertops you currently have with quartz countertops is an excellent option if you're dealing with a busy kitchen. Not only is quartz a low-maintenance countertop material, but it's also durable in the face of kitchen countertop hazards like hot pots, abrasive pads, and stains. In addition, quartz comes in a variety of colors and finishes that can match almost any kitchen theme out there. And if you love the look of granite but you're sold on quartz, there are quartz countertops that mimic the natural look of granite.
Granite
Speaking of granite, this material is another great option for replacement kitchen countertops in your busy home. Each slab of granite is unique, but be advised that rarer colors and veining do cost more. And when almost 46% of homeowners tend to exceed their budget for a remodeling project, keeping costs down is a must. But for a cost-effective option, some run-of-the-mill granite will still look absolutely stunning in your kitchen. This material is also perfect for replacing kitchen counters because of its resistance to heat, scratches, and stains. It's important to note that periodic resealing is needed to ward off more severe stains, though.
Soapstone
While this material isn't as common as granite if you want to replace your kitchen countertops with it, it does offer some fabulous benefits. First, it's incredibly resistant to any kind of heat damage. In addition, repairing small scratches in this material can be accomplished with a little bit of light sanding and some mineral oil. That being said, soapstone does scratch easily. If you don't mind a few scuffs and you're married to your cutting board then it shouldn't be too much of a problem, but this does make soapstone a bit of a higher-maintenance material.
Laminate
You might have bad memories of laminate countertops, but hear us out. Thanks to technological improvements, laminate countertops look better than ever. Not only that, but they're also incredibly easy to install and fairly resistant to stains and heat damage. It's important to use a cutting board when you have laminate counters, though, as they tend to get damaged pretty easily by cuts and scratches.So if you're in a pinch and need to replace kitchen counters, laminate is still a viable option.
Butcher Block
Butcher block countertops are typically made using wood, which can add incredible warmth to your kitchen. And for the most part, they're just as sturdy as any other kind of kitchen countertop. They're typically used by butchers, after all. A good varnish can help you improve stain resistance, but dings and scratches can easily happen. For many people, this just adds character, but for others, the maintenance of buffing out scratches isn't really ideal.
When you're looking for replacement kitchen countertops, there are plenty of options to choose from. You'll be fine with any of these five choices, but make sure you consider the amount of maintenance you're willing to perform.